GET FAST APPROVAL FOR A TITLE LOAN FROM FLORIDA TITLE NOW!
Apply Online
When you apply, you will need a free and clear vehicle title in your name.
Vehicle Inspection
Bring your vehicle in for a quick inspection.
Get Approved
Your application will be reviewed and once approved...
Get Your Funds
You will receive your funds immediately
TITLE LOANS MADE FAST AND EASY
We specialize in providing car title loans with competitive rates to residents of Pensacola and the surrounding areas.
Florida Title has two offices conveniently located in Lillian, and Seminole, Alabama. We pride ourselves on making it quick and easy to get pre-approved for loans in the Pensacola area.
We provide fast and friendly customer service to all of our borrowers. Pensacola Title is committed to giving you the best lending experience possible.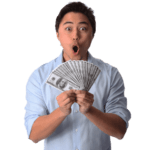 It's Easy to Get Pre-Approved.
We have minimal application requirements, because we want to make it easy for you to get approved for a car title loan. Get started by requesting an email quote now!
We Have Two Convenient Locations near Pensacola.
Florida Title is just a short drive away from Pensacola, so you can get the cash you need fast!
Visit our convenient locations, both in Seminole, Alabama and Lillian, Alabama and have quick access to the cash you need.
Promotions Available to Help You Save.
Check a wide variety of promotions at Florida Title. From a 30-day interest free promotion to free gas cards and a referral program that rewards you with up to $50 cash for referring your friends to Florida Title, there are plenty of ways to save!
Fast, Friendly Service.
Our customer service representatives and loan officers are ready to make it easy to apply for your title pawn. We can help you through the entire process, and answer any questions you may have throughout your application. Come to Florida Title now to see the difference for yourself!
Ready to Get Started with Title Loans near Pensacola? Come in Today!
At Florida Title, we make it easy for you to get the cash you need in Pensacola and the surrounding areas. We're always here to help. Get an email quote on our website now, or come in to start applying for your title loan near Pensacola!